Personal Assistance (PA) provides those eligible with help with activities of daily living including household chores essential to the health and safety of the enrollee, budget management, attending appointments and interpersonal and social skills building to enable the enrollee to live in a community home. It also may include medication administration as permitted under state law.
PA shall be provided in accordance with therapeutic goals and objectives as specified in the plan of care. PA may be provided in the home or community; however, it shall not be provided in school settings. Services may be provided during the day or night, as specified in the plan of care.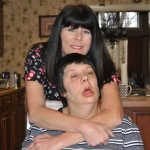 MHDS provides me with peace of mind and safety for my daughter through their Personal Assistance services.
What services can we help with?
Services are provided for the benefit of person served and can include but are not limited to:
Companionship
Transportation
Light cleaning
Medication
Personal hygiene
Meal preparation
Prescribed therapies
DIDD and/or MCO will determine specific services based on an evaluation of the needs of the individual.
Who is eligible?
Personal Assistance (PA) is to be used as an alternative to residential services to assist the natural family, including the person supported, to continue to live together within the family home and community. West Tennesseans who are currently approved for Waiver Services may request PA through their support coordinator. Those not in the waiver may contact MHDS to learn about other options.