We're Here to Help
We Have The Experience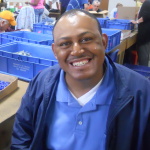 We've been taking care of the business needs of the communities we serve since 1972. While all of the persons supported working in our facilities have an intellectual disability, there is no deficit in their desire for the self-satisfaction that comes from being paid for a job well done. Many of them have been working here for 20+ years.
Trained Workforce
Our individuals and professional staff are trained to have high standards to ensure you get the results you need in the timeframe necessary. We understand that your priorities become ours and providing the services that are important to you is always our goal.
Ready to Serve You
Our staff can tour your facility or examine a project for compatibility with our resources. If we can't complete a task for you more efficiently and cost effectively, we won't bid it. We can pick up materials, complete the work and return the finished product to your exact specifications. A piece rate based on average hourly productivity is established on all projects and is the basis for our fee to you and what is paid to the person supported.
Visit Our Facilities To See Us At Work
We welcome the opportunity to demonstrate our abilities. Call or contact us to set up a tour. You will be glad you did. Please ask for the Manager of Workshop Operations at the facility most accessible to you:
38 Garland Dr.
Jackson TN 38305
731.664.0855
1551 Welch St.
Brownsville TN 38012
731.772.3355
615 Moss Lane
Bolivar TN 38008
731.658.4404
Some of the Services We Can Provide
INDUSTRIAL PROCESSES
Assembly
Machining
Sorting Parts
Pre-packaging
Re-packaging
Salvage
POLITICAL CAMPAIGNS
Inserts
Sorting materials
Assembling signs
MAILINGS
Stuffing envelopes
Applying Labels
Satisfied Customer References are available upon request!